Hale Kua Gardens - Tropical Arboriculture
Your hosts, Bill and Cathy Cowern would love to share their vision of developing a tropical timber arboretum on Kauai, graced with many species of tropical fruit and flowering timber trees. Below are some of the exotic tropical trees on their 8-acre property.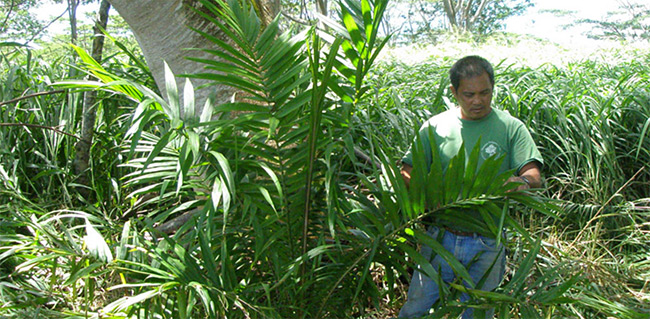 Oil palms thrive from the natural fertilizer provided by a nearby albizia tree.
TIMBER SPECIES

Scientific Name
Common Name
Country of Origin
Schizolobium parahyba
False tree fern
Brazil
Ceratonia siliqua
Carob
Syria
Guaiacum officionale
Lignum vitae
Jamaica
Grevillea robusta
Silkoak / Lacewood
Australia
Cardwellia sublimus
Silkoak / Lacewood
Australia
Lagerstroemia flos reginae
Giant Crepe Myrtle
Vietnam
Lagerstroemia floribunda
Crepe Myrtle
CostaRica
Ochroma pyramidale
Balsa
Costa Rica
Swietenia mahogani
Mahogany
Central America
Swietenia macrophylla
Honduras mahogany
Central America
Khaya ivorensis
African mahogany
Liberia
Tabebuia donell / smithii
Primavera
Central America
Tabebuia avelandae
Ipe
Brazil
Tabebuia pentaphylla
Pink tecoma , amapa
South America
Adenanthera pavonia
Red sandlewood
India
Aleurites molucanna
Kukui nut
Hawaii
Diosporos kaki
Japanese persimmon
Japan
Diosporos ebenaster
Black sapote
Mexico
Litchi chinensis
Lychee
China
Macadamia integrifolia
Macadamia nut
Australia
Euphoria longan
Longan / Dragon eye
China
Thespesia populnea
Milo
Hawaii
Brosimum alicastrum
Breadnut
Brazil
Albizia falcataria
Molluca albizia
Mollucas
Albizia guachapele
Guachapele
Costa Rica
Azaderachta indica
Neem
India
Azaderachta saimensis
Neem
India
Acacia koa
Koa
Hawaii
Acacia melanoxylon
Blackwood acacia
Australia
Acacia confusa
Formosan koa
China
Acacia auriculiformis
?
Australia
Eleocarpus grandis
Blue marble
Pacific Rim
Eleocarpus maxopetalus
Ceylon olive
Ceylon
Astronium fraxinifolium
Goncalo Alves
Brazil
Astronium lecointei
?
Brazil
Araucaria columnaris
Cook pine
Tropical Pacific
Enterolobium cyclocarpum
Earpod
Mexico
Mangifera indica
Mango
India
Calophyllum inophyllum
Kamani
Hawaii
Cassia saimea
Kassod tree
Hawaii
Intsia bijuga
Ipil / Merbau
Tropical Pacific
Tamarindus indica
Tamarind
India
Harpullia pendula
Tulipwood
Australia
Brachychiton acerifolium
Flame tree
Australia
Pterocarpus indicus
Narra
Phillipines
Pterocarpus marsupium
Bibla
India
Pterocarpus angolensis
Muninga
Angola
Dalbergia retusa
Cocobolo
Brazil
Dalbergia nigra
Brazilian Rosewood
Brazil
Dalbergia indicum
Sissoo
India
Cresentia cujete
Calabash tree
Tropical America
Eucalyptus deglupta
Kamarere / Rainbow gum
Malaysia
Eucalyptus dunnii
?
Australia
Eucalyptus Microcorys
Tallowwood
Australia
Achras zapota
Sapodilla
Belize
Cordia subcordata
Kou
Hawaii
Cordia goeldiana
Freijo
Brazil
Cordia alliodora
Laurel Blanco
Venezuela
Canarium vulgare
Pili Nut
Malaysia
Annona squamosa
Sugar apple
Central America
Garcinia mangostana
Mangosteen
Malaysia
Filicium decipiens
Fern Tree
India
Cananga odorata
Ylang- Ylang
Burma- Australia
Berchimia zeyheri
Pink Ivory
Malawi / South Africa
Chrysophyllum oliviforme
Satin Leaf, Caimitillo
Tropical America
Gmelina leitchard
tii
Australia

OTHER TREES

Pimenta dioica
Allspice
West Indies
Callistemon citrinus
Bottlebrush
Australia
Spathodea campanulata
Red African Tulip
Africa
Spathodea campanulata
Yellow African Tulip
Africa
Anacardium occidentale
Cashew
Tropical America
Ficus carica
Fig
Asia Minor
Ficus religiosa
Peepul, Bo tree, Bodhi tree
India
Datura candida
Angel's trumpet
Tropical America
Annona HYBRID
Atemoya
Tropical America
Handkerchief tree
?